GROHE successful at the German Sustainability Award
• Sanitary fittings manufacturer GROHE is among Germany's most sustainable companies
• Third top ranking in a row
• Accolade recognises company's commitment and leadership in sustainability


Grohe AG's holistic commitment to 360-degree- sustainability is paying off – the company's uncompromising integrated approach covering resource protection, environmental protection and social responsibility did not fail to impress the jury of the German Sustainability Award 2016. The world's leading supplier of sanitary fittings and faucets has scored a top ranking for the third consecutive time, making GROHE one of the most sustainable major companies in Germany. GROHE was among the top 3 in the same category in 2015 and among the top 3 in resource efficiency in 2014.
"We are proud of our enduring success at the German Sustainability Award," said Michael Rauterkus, CEO of Grohe AG. "It shows us that our passion and our commitment to sustainability are appreciated also outside our company. By presenting us with this award, the jury of experts has acknowledged the performance of our employees, who are willing to go that extra mile every day in order to meet our high demands made on sustainability."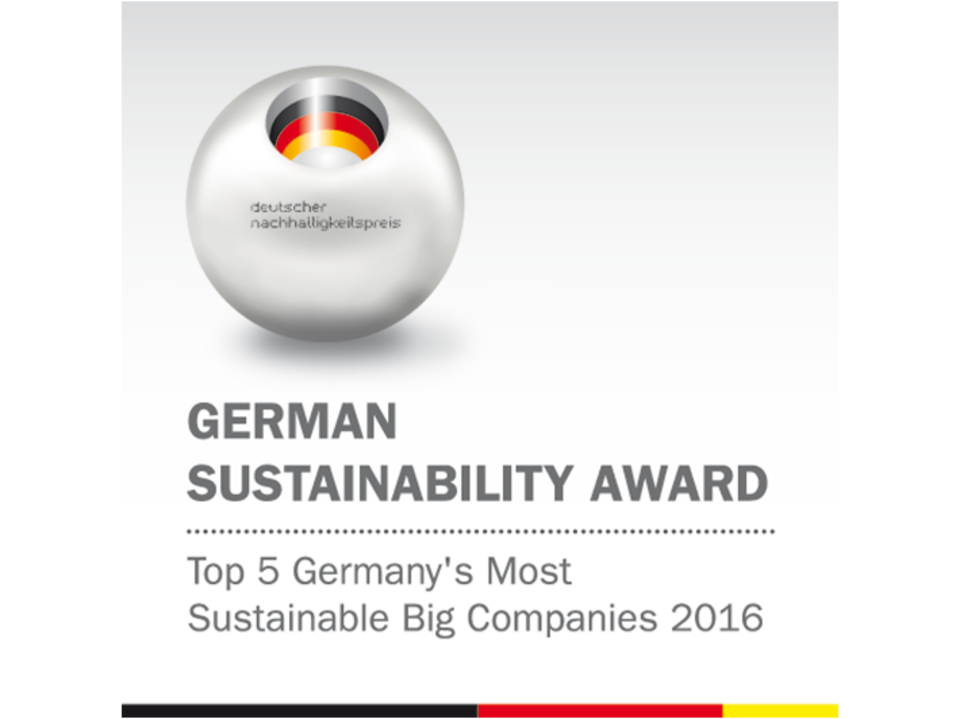 Improved sustainability in all areas
GROHE is constantly working to improve its sustainability through new product solutions and process optimisations. Among other things, the jury of experts based its decision on the company's excellent sustainability management system, which helps to master challenges such as resource protection, demographic change, social responsibility and compliance. The combined heat and power plants installed in the production sites of Hemer and Lahr as well as the waste recycling ratio of almost 99 percent at all plants are just two examples of the investments made, and the expertise demonstrated, by GROHE in all areas of sustainability.
Among the most important innovations of the year is the GROHE Blue Home water system, which fits into virtually any kitchen. It delivers filtered and chilled water straight from the faucet, offering a choice between still, medium and sparkling refreshment. The carbon footprint is reduced by more than 60 percent compared to bottled water. Other milestones of GROHE's sustainable development efforts include the GROHE Light brass alloy, which contains 35 percent less lead than conventional alloys, as well as the GROHE SilkMove ES technology, which ensures that only cold water is dispensed as long as the faucet lever remains in the default centre position. The reduced consumption of hot water helps users save energy and CO2 emissions.
An initiative of the German Sustainability Award Foundation, the German Sustainability Award is endorsed by the Federal Government, umbrella organisations of local governments, confederations of business and industry, civil society organisations and research institutions. It has been presented on an annual basis since 2008 to companies who are role models in combining economic success with social responsibility and environmental stewardship and, since 2012, also to local authorities committed to sustainable local development.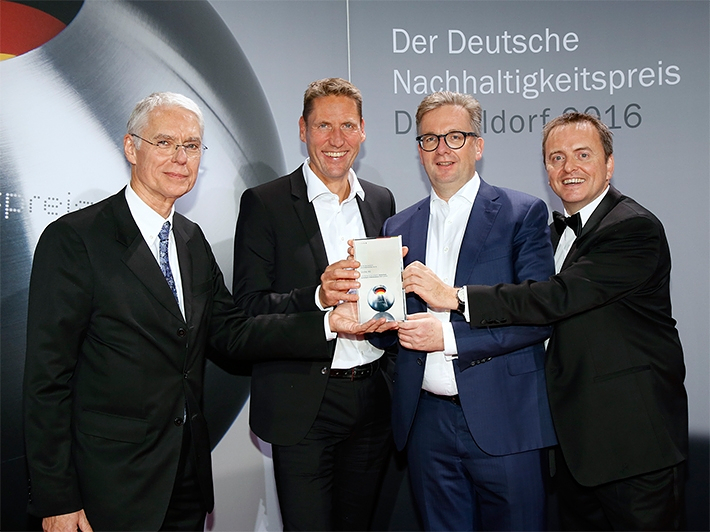 Germany's greenest gala
The prize ceremony of the German Sustainability Award held at Düsseldorf's Maritim Hotel on 25 November was attended by some 1,200 invited guests, among them corporate, government and political figures as well as representatives of the research sector and civil society. Needless to say, the entire event was planned and organised with sustainability in mind down to the last detail. The gala was hosted by the initiator of the Award, TV science journalist Stefan Schulze-Hausmann, with the prizes presented by such prominent figures as Malu Dreyer, President of the German Bundesrat, Federal Environment Minister Dr. Barbara Hendricks, and other high profile figures. Dr. Gerd Müller, Federal Minister for Economic Cooperation and Development, was the patron of this year's event.
Acting as a responsible role model
"We at GROHE believe that water is at the heart of everything we do and that sustainability defines our mission," said Grohe AG CEO Michael Rauterkus, adding: "We will only ever accept the very best outcomes – both in terms of our products and business dealings and in respect of our commitment to sustainability. This is why we aim to become Germany's most sustainable major company this year and to emerge as the worldwide sanitary industry's most sustainable company by 2020. Being nominated for the CSR Award of the German Federal Government highlights the merits of our sustainability strategy as well. Our ambition is to translate sustainable action into economic success and exercise responsibility at the same time, demonstrate respect for people and the environment and secure a worthwhile future for the next generation. In doing so, we want to inspire others to evolve through sustainable actions as well."
Comprehensive sustainability management system in place
GROHE has put in place a comprehensive sustainability management system. It includes a Sustainability Council to support the company's Board in terms of all sustainability-related issues as well as the areas of action defined in year 2000 and the respective strategic objectives, plus the GROHE Corporate EHS & SustainAbility Management unit coordinating and monitoring the implementation of the strategic and operational targets. In addition, GROHE ensures the sustainability of its products across their entire life cycle. During their service life, the products help consumers manage their use of resources without ever compromising on comfort and convenience. The latter is made possible by the manufacturer's innovative technologies such as its embedded GROHE EcoJoy® technology, which allows reducing water consumption by as much as 50 percent.
Sustainable and convenient: new drinking water system from GROHE
New highlights added to the product range this year include the GROHE Blue® Home drinking water system. Designed to fit into virtually any kitchen, this compact system supplies filtered and perfectly chilled water straight from a stylish kitchen faucet, offering a choice between still, medium and fully carbonated refreshment. Switching to this system can shrink a typical consumer household's carbon footprint by more than 60 percent compared to bottled water.
Decisions to be taken by panels of experts
GROHE is one of more than 800 entrants for the 2016 German Sustainability Award. Created in 2008, this annual accolade is awarded by the German Sustainability Award Foundation in cooperation with the German government, the umbrella organisations of municipal and local governments, business federations, civil society organisations and research institutions. The final decision on who will be named as Germany's most sustainable major company will be taken by a 12-strong panel of experts chaired by Professor Günther Bachmann in his capacity as General Secretary of the German Council for Sustainable Development. The result will be announced to the nominees at the Düsseldorf award ceremony on 25 November of this year. The CSR Award of the German Federal Government is now moving into its second round consisting of a stakeholder survey, the results of which will be taken into consideration at the subsequent session of the panel of expert judges. The award ceremony will take place in Berlin on 24 January.